Car insurance is an agreement between an insurance buyer and the car insurance company where the insurance company assures monetary protection to the policy buyer in case of any damage to the vehicle. The policy buyer has to pay a premium to avail the benefits of a car insurance plan.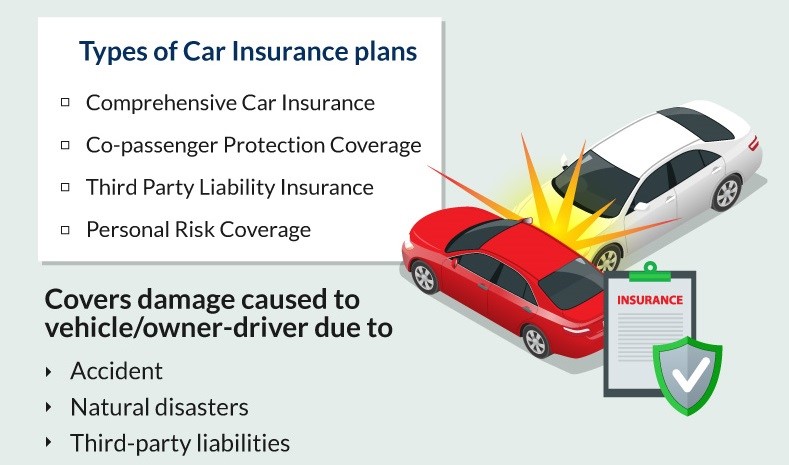 There are two types of car insurance plans that you can choose from:
✔

Third-Party Liability Plan

✔

Comprehensive or Package Car Insurance Plan
Now let's have a look at the two types of car insurance plan that you can renew your vehicle with:
✔

Third-Party Liability Plan

If you don't already know, third-party liability cover is mandatory for all motor vehicles driven on roads in India as per the Motor Vehicles Act of 1988.

Keep in mind that this type of car insurance plan only covers third-party death, injury or damage in the event of an accident involving your vehicle. It's important to note here that third-party policy is designed to only protect an insured against any arising third-party claim. Any damage to yourself or your vehicle will not be covered under this type of motor insurance plan.

✔

Comprehensive Car Insurance Plan

The reason why people choose this car insurance policy is that it offers coverage for the third-party legal liability as well as any damage or loss to your vehicle in case of an accident. It is advisable to go for this motor insurance policy if you want complete financial protection against losses arising out of accidents, natural disasters/manmade disasters, theft etc. and much more subject to the exclusions under the policy.

Comprehensive or package policy is immensely important if you want complete security and total peace of mind. The own damage (OD) premium under comprehensive car insurance generally varies depending on your car's make-model, engine capacity, the age of the car, and geographical zones. In today's age of technology, you can easily insure your vehicle with the best comprehensive car insurance policy online.
Apart from these two, motor insurers also offer several different add-on covers in exchange of additional premium along with your base premium costs. Engine Protection Cover, Roadside Assistance Cover, Consumable Cover, Passenger Cover, Zero Depreciation Cover, No Claim Bonus Protector, Return to Invoice Cover, etc., are some of the highly sought after car insurance add-ons. These add-on covers have been designed to offer additional protection to your vehicle.
✔

Engine and Gearbox Cover

The add-on cover Car Insurance provides you with monetary protection in case your car breaks down due to any damage to the internal parts of the engine and gearbox.

✔

Roadside Assistance

With the roadside assistance add-on cover, you won't be trapped in a situation where your car breaks down in the middle of the road. You can get instant help with just one call at your insurance provider's toll-free number, any time of the day or night. The services offered under this add-on cover include repairs, changing flat tyres, towing facility, emergency fuel refilling, etc.

✔

Zero Depreciation Cover

When you include this add-on cover with your car insurance policy online, you don't have to pay depreciation on expenses of replaced or repaired parts like fibre, plastic, glass parts and rubber.

✔

Key Replacement Cover

This add-on cover offers coverage for the costs incurred to replace the vehicle lock and key in case it's lost or stolen. This add-on cover is valid for up to 2 claims in a policy term.

✔

Ambulance Charges

This add-on cover for car insurance is designed to cover the charges towards transportation of the insured person in an ambulance to the hospital.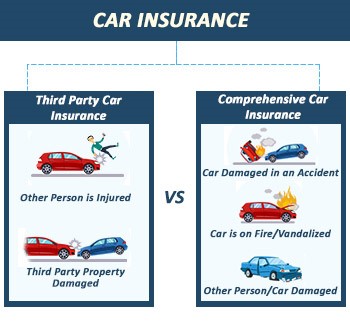 Third-party or Comprehensive, Which Car Insurance Plan to Go for?
The comprehensive cover is not mandatory. Yes, it is an optional cover and it's totally on the insurance buyer's decision whether they would like to renew their car insurance policy with a comprehensive plan.
But the third-party cover is mandatory for all types of vehicle plying on the Indian road today as per the Motor Vehicles Act. It means you will have to have a third-party policy to become legally eligible for driving your vehicle on the road.
Now here's a twist, when you renew your car insurance with only the mandated third-party cover, it will only protect you against any third-party claims arising out of a third-party bodily injury/death and third-party property damage (TPPD).
Note that, a third-party cover policy will not offer any financial compensation if you suffer any injury or even if your car suffers major damages in the event of an accident. In this scenario, you will have to pay the cost of repairing your vehicle from your pocket.
But, with a Compressive or Own Damage Cover, you do not have to worry about anything as long as you renew your car insurance with this plan. The most splendid feature of comprehensive car insurance is that it offers coverage for third-party legal liability as well as own damage.
It means, the policy will take care of what a third-party cover offers plus, it will also offer financial protection in case of any damage to you or your vehicle in the event of an accident.
So the wisest decision here you can make is to opt for the comprehensive car insurance policy. It will cover your vehicle against various manmade and natural calamities such as riots, vandalism, thunderstorm, cyclone, fire, etc., and many more, This plan also secures your car even if it gets stolen. So if you renew your policy next time, make sure you are opting for compressive cover for ultimate and all-inclusive protection.
Car Insurance Claim Procedure
✔

In order to register a claim with your car insurance provider, you will need to call your insurer on their toll-free number.

✔

File an FIR with the police station at the earliest in case of an accident and collect as much proof as possible.

✔

The insurance provider will send a surveyor to assess the damage.

✔

Once your car insurance provider accepts your claim, you will get the compensation.

✔

In the age of technology, filing claim has become even easier. You can do this by simply visiting the official website of your insurance provider.
List of Top 10 Car Insurance Companies

| Facebook

| Twitter

| Linkedin

| Instagram