Natural disasters in India are not few and far between occurrences. The frequency and severeness of catastrophic events have noticeably increased in last few years. Of all human assets, households are worst sufferers of natural catastrophes and impose maximum financial loss to householders. Naturally, insuring home does make sense in India. But in reality, it is a rarity.
In the aftermath of a natural disaster, the insurance sector receives umpteen queries. However, most queries don't turn into purchase of insurance policies. And, the market of home insurance in India is no exception. Alarmingly, over 90% residences in India are not insured and vulnerable to natural calamities. Even though, insuring households is no luxury, still the demand is pretty low compared to the necessity. Let's dig deep and find out the reasons why people turn their faces away from house insurance policies available in India.
There is a plenty of myths regarding the coverage and other features of home insurance in India. Sometimes these misconceptions even deprive policyholders of right and adequate coverage. So, this article aims to unearth all fallacies associated with house insurance and to debunk them all.
Natural perils are not covered by home insurance in India
Many people in India are under the misconception that natural perils are not covered by home insurance plans. But actually, house insurance keeps two most common and destructive forces in India such as fire and flood under its coverage. Many other natural perils like hurricane, typhoon. Lightning, storm, cyclone, landslides are also under the purview of the house insurance plans. Protection from earthquake is even available in home insurance in India as an option. Similarly you can cover terrorism related risks to your residence by opting for it.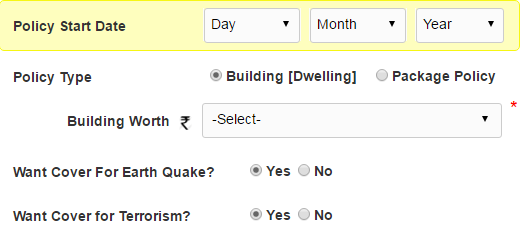 Source: GIBL.IN
Instead of assuming what is covered and what's not, it is better to go through the policy document carefully prior to making the purchase. All home insurance plans are not the same in terms of coverage. So one should assess one's needs first and compare home insurance policies available and pick the one that caters to your needs.
Houses are not protected against burglary
A lot of home-owners decide against home insurance thinking it wouldn't safeguard their households from criminal activities such as burglaries. But the coverage of home insurance is comprehensive and it includes even attempted burglaries and robberies. Typically, policyholders are eligible for burglary cover which is the total worth of their content value in the package policy.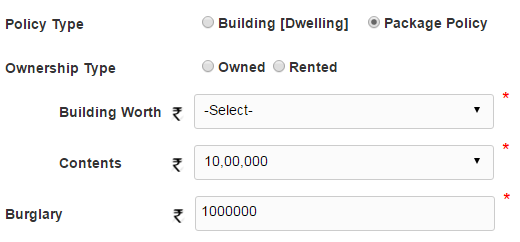 Source: GIBL.IN
Lower premium means inadequate overage
A home insurance plan with low premium doesn't necessarily provide insufficient coverage. There are many ways of reducing home insurance premium. By installing fire and burglar alarm you can minimize the risk pertaining your household and be entitled for lower premium. You can refrain from availing optional cover that you don't need. And, you can compare home insurance in India to locate plan with adequate coverage and lower premium.
Home insurance plans are meant for only owners
This is one of the most widespread myths associated with house insurance policies. To buy home insurance you don't necessarily have to own a house. A tenant can also shield valuable contents of his or her home by purchasing home insurance package policy. If you live on a house on rent on temporary basis and shift to a different house you can still have your contents covered. All you need to do is get approval for change of address. On the other hand, if you are the owner of the house and have decided to give your house on rent, you can insure the building structure that you give on rent.

Source: GIBL.IN
Claim settlement process is complicated
Claim settlement process is never too complex if you are aware of the right ways of going about this. The key is to have your insurer intimated about the loss at the earliest in case of any loss. After informing, you can officially register the claim by producing relevant documents. Your insurer will send a surveyor to inspect and assess the loss and submit a report of the same to the insurer. This report plays an important role in the claim verification process. Finally, your home insurance provider will settle the claim after evaluating the loss. Hence, the entire process is fairly simple.
Is there any other reason behind the lack of demand?
Aside from the myths, there are some other reasons why the demand for home insurance is
so unbelievably low. Home insurance policies work in two ways. The reinstatement cover pays
the reconstruction cost of the household and the market value-based cover pays the
reinstatement cost after deducting depreciation. While buying a house insurance policy,
there is always a chance of underinsurance if the valuation of your house and its contents not done
properly. Secondly, the reinstatement cover seems not relevant for flat dwellers or residents of
complex. The offering of reconstruction cost is not beneficial for dwellers of flat as they cannot reconstruct an entire apartment or complex on their own.
Home insurance plans are coming off age in India
To address the need for innovation and simplification, leading home insurance providers have recently come up with much-improved plans. These policies have successfully resolved many long-standing issues that made customers shy away from traditional house insurance policy. Here are some of the most noteworthy aspects of house insurance plans that have simplified.
Structure of the house
In early days, home structures were covered at the reconstruction cost. Some home insurance companies in India now cover households at their market value. In case of severe damage, the new version of home insurance covers pay the agreed market value instead of the reconstruction cost. Similarly, house contents now are covered at new-for-old basis. This means if your insured contents get damaged you are entitled to get the current market value of the old products.
Content of the house
People used to have to go through cumbersome process to insure valuable paintings, curios. Most insurers used to keep these items out of coverage. However, now you just have to produce valuation certificate to have such precious contents covered.
Details of assets no longer required
Traditionally, home insurance companies in India required invoice and serial numbers of valuable assets to insure them. But, most owners tend to lose those documents and couldn't insure their valuables. Much to the delight of these customers, some home insurers now don't ask for details of their precious possessions in the proposal form that they want to insure.
Availability of new optional covers
In case you are not able to reside in your damaged household and have to get an alternate accommodation on rent you can get optional cover to have this additional expense covered. Similarly, this optional cover pays for the loss of rent in case you had any tenant in your household. Many other new, innovative and useful add-on covers have come into existence to cater to the varied needs of the home-owners in India. Optional covers like worldwide coverage of portable equipment; dog insurance cover, keys and lock replacement cover, lost wallet cover and ATM withdrawal robbery cover are well and truly practical and timely.
These advancements promise to deliver real benefits to dwellers of households, flats, complex. The policy wording should also be simplified. Hopefully, all these new age features will spur demand for home insurance in India.
Conclusion
Your dwelling place as well as your precious asset deserve protection and buying a home insurance plan is the best way of shielding it from all sorts of natural or man-made hazards. We cannot predict what's in store for us in future. But, we can at least stay prepared to avoid financial losses by buying home insurance in India.
Different house insurance policies vary in their terms of coverage, benefits. You need to pick the right one as per your needs carefully. Since home insurance plans are now available on internet, you can resort to India's premiere online insurance marketplace, GIBL.IN and compare home insurance online. You can also make an informed purchase of the best home insurance plan that matches your requirements by paying online. Beat the floods and other natural calamities with home insurance in India. Now that the monsoon has arrived, don't delay in getting your house insurance cover.