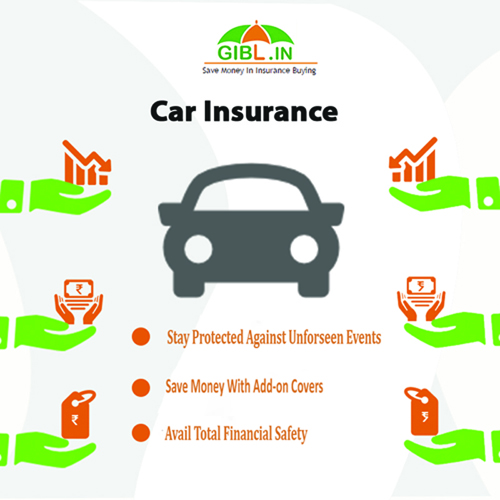 Buying a new car takes a few vital steps and selecting the right car is one of them. And, the same goes for car insurance in India. If you buy a new car you also need to choose the right car insurance plan online carefully for your car. A car insurance online policy with extensive coverage is the ideal choice for a car-owner in India. If your car is insured adequately you can stay financially safe even if your car gets involved in any mishap on road with severe financial repercussions. On the basis of coverage, car insurance plans in India are of two types of plans.
Regular Coverage of Car Insurance in India
Third Party Liability Coverage
This type of coverage is mandated by the Motor Vehicles Act in India and it covers only the liabilities of the insured to third parties. If your car is responsible for any accident that causes damage to third party vehicle or death or physical injury to any third party, this type of coverage comes into play. However, the coverage doesn't take care of the damages to the vehicle of the insured.
Comprehensive Coverage
Both liabilities to third party and insured vehicle of the policyholders are under the ambit of comprehensive coverage of car insurance plan. If you car gets stolen or gets damaged, this type of coverage take care of your financial loss. Although, comprehensive coverage of car insurance is optional in India, most car-owners especially those who have newly bought a car opt for it to keep worries at bay. Let's take a look at the benefits of going for a comprehensive car insurance online in India.
Damages and Theft of the Insured Car
In case your car gets stolen or parts of your car gets damaged and need to be repaired or replaced, comprehensive car insurance plans cover the financial expenses to do the needful.
Personal Accident Coverage
A car accident on road might cause death and injury of policyholders which require medical attention. A comprehensive car insurance policy online pays out Rs. 1 Lakh to owner of the car as personal accident coverage in case such an event occurs. However, you need to carry a valid driving license to avail this compensation.
This coverage can be enhanced by paying additional premium on your car insurance policy. You can extend the ambit of personal accident coverage to passengers as well and increase the amount of compenation to Rs, 2 Lakhs.
Additional Coverage against Legal Liabilities
The following legal liabilities can also be covered by paying additional premium -
Liabilities to paid driver, cleaner and conductor employed for operating the car
Liabilities to employees except the paid driver driving or travelling in the car other
Liabilities to those passengers that don't pay fare
These are the regular coverage of motor insurance plans available in all car insurance companies in India. However, car insurance plans by different providers are not identical. There are some standout companies that have come withunique features in their car insurance plans that surpass the offerings of rest of the car insurance companies in India. If you are on the lookout for a comprehensive car insurance policy with exclusive features, these are the best car insurance companies for you.
Best Car Insurance Companies in India
Let's take a look at the features that have made these companies' motor insurance online plans standout.
Key Benefits of Oriental Car Insurance Online Policy
Free TVS Emergency Service
Availability of loss of personal effects cover up to Rs. 5000 or Rs. 10,000 depending on the chosen limit
Availability of alternative vehicle cover for 5 or 10 or 15 days with a limit per day up to Rs. 400 or Rs. 650 as chosen
Key Benefits of New India Car Insurance Online Plan
Availabiliy of 7 useful add-on covers
Decision on claim is made in 3 days upon receiving application
Grievance is acknowledged in 3 days and resolved in 15 days
Availability of towing charge worth Rs. 1500
Key Benefits of United India Car Insurance Online Plan
5% Own Damage premium Discount up to Rs. 200
50% replacement cost for damage to tubes and tires
Availability of coverage against electronic and electrical accessories, fuel tanks and bi-fuel kits
Availability of coverage outside India in countries like Bangladesh, Bhutan, Pakistan,Nepal, Maldives, Sri Lanka.
Additional Coverage of Car Insurance in India
Even comprehensive car insurance plans don't provide complete protection. To ensure all-encompassing coverage you should consider add-on covers. Even though, you have to spend a bit more on your car insurance online premium, you can rest assured that your car will be entirely protected. There are different types on add-on covers available so you have to choose them wisely as per your requirements.
Top Car Insurance Add-on Covers in India
Let's take a look at some of the most popular and useful car insurance add-on covers available in India.
Road Side Assistance Cover
If you drive on long routes frequently you should consider opting for this cover. This add-on cover will help you out if your car breaks down on a highway by providing a list of assistance like towing services, tyre replacement, on-site battery jump start, additional fuel and, even reimbursement of hotel bills that you have to spend for staying at a hotel while your vehicle is being repaired. This add-on cover further provides alternative vehicle as well.
Return To Invoice Cover
If you drive your car in an accident prone zone or in a area with high crime rate, this type of car insurance add-on cover will prove to be handy for you. In case of a total loss due to damage as a result of an accident or in case of theft you will be provided with the full monetary value of your car that you have paid to purchase it. As the name suggests, this cover takes the cost of your vehicle back to its invoice value so that policyholders don't have to face any economic loss.
No Claim Bonus Protector Cover
If you don't want to spend a dime from your own pocket even in case of a minor dent in your car, this car insurance add-on cover is designed for you. It simply protects the NCB that you accumulate even after making a claim. However, the add-on cover comes with some limitations and you can not make claims umpteen number of times and expect your NCB to remain in tact.
Zero Depreciation Cover
If you have newly bought this cover you should buy zero depreciation cover along with your regular comprehensive car insurance policy online. A basic car insurance plan doesn't pay out the original value of car parts in case of a claim. The payable amount isn't usually the deduction of the depreciation of the damaged parts from their original value. Armed with zero depreciation cover, you can claim the full value of your damaged car parts. Parts of a new car of latest model is expensive, hence this type of add-on cover saves a lot of expenses of car-owners.
How Much You Have to Pay to Get Total Protection?
The premium of a basic car insurance policy is determined on the basis of opted coverage. If you opt for only liability coverage, you have to pay a fixed amount which depends on cubic capacity of your car engine. If you go for comprehensive coverage, you have to pay premium for damages of your own car along with third party premium. Own damage premium depends on many factors such as the place where your car is registered, make and model of your car, claims that you have made, engine capacity and age of the car. If you choose any car insurance add-on cover, your premium will also increase accordingly. So, you should pick add-on covers wisely.
These are the factors behind car insurance premium. Is there any way to minize car insurance premium without compromising on the coverage? You can still enjoy complete protection by paying affordable premium if you can avail various discounts that are on offer with car insurance online plans in India.
Some car insurance companies in India offer discount on own damage premium. You are also eligible for discount if you are a member of any recognized Automobile Association in India and also for installing anti-theft devices in your car. You can avail more discounts if you opt for voluntary deductibles and also in the form of NCB if you refrain frommaking claims.
Buy Car Insurance Online in India
Now that you know how to keep your car completely protected without having to pay exorbitant premium, it's time to buy car insurance online in India. There are many benefits of buying car insurance online like low premium and instant issuance of car insurance policy. Apart from purchasing motor insurance online, car insurance renewal online is very popular now among car-owners in India. Online renewal is speedy and hassle-free and most importantly can be done in the eleventh hour when the valid car insurance cover is on the verge of being expired.
If you have any particular car insurance company such as New India Assurance, Oriental Insurance, United India Insurance in mind you can visit the official portal of these providers and buy car insurance online directly. But, there are scores of companies available on market with lucrative offerings to gain maximum customers. So, you should compare car insurance online in terms of benefits, premium and limitations and buy the best car insurance as per your needs and budget. GIBL.IN is a premiere online insurance marketplace that facilitates car-owners with easy comparison facility and also the option to buy car insurance online right from the portal.
Complete protection of your car is of utmost importance. You have already spent a fortune in buying the car of your dream. Now, you don't want to spend again to repair car parts due to accidents or face huge financial loss due to theft. Visit GIBL.IN today and get the right car insurance plan online for your car that ensures complete protection at a reasonable price.