The season of festivals has already arrived and Diwali, one of the grand festivals of India is knocking at the door. Many Indians are planning to purchase a new car in this festive season and if you happen to be one of them there is no better time than this as most eminent car brands come up with discounts and several other offers during festivals. You can scour all the latest models of cars to choose the best as per your taste and budget. And, along with finding the best car brand and model you further need to gain information about the top car insurance providers operating in India to insure your car. To ease your quest to find the best motor insurance companies in India here is a comprehensive list of the top 10 car insurance providers that well and truly deserve your attention. Even though, comprehensive car policy is yet to be mandated in India, but it is highly recommended that you go for it. Protective cover for your own car is of utmost importance as incidents of road-mishaps are widespread in India.
The Dismal Scenario of Road Safety in India
If you are planning buy a new car, you would obviously want to keep it well-protected. But it is a daunting task for any Indian who drives regularly on public roads. The gloomy picture of India's road safety will compel you avail a comprehensive car cover. If you don't have the slightest idea about how deadly Indians roads are, read on.
In every single hour, Indian roads claimed more than 16 souls in 2014. More than 1.41 lakh people died in 2014 due to crashes which is 3% higher than 2013. The total numbers of crashes was 4.5 lakh and total number of people who were left injured was 4.8 lakh.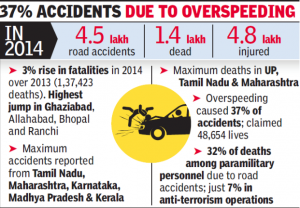 Source: timesofindia.indiatimes.com
According to National Crime Records Bureau, the foremost reasons behind such enormous number of road-mishaps are rash driving and unnecessary speeding. Even if you are safe driver you cannot control other drivers on the road that drive recklessly. The last thing you want is your brand new car is damaged due to someone else carelessness and you are left with no coverage to get compensation. This is why a comprehensive car cover is of utmost importance and a must for you.
Importance of Getting A Comprehensive Car Insurance
You must know that, third-party motor insurance is legally compulsory in India as per Indian Motor Act. Although comprehensive plans are optional, it is highly recommended for you as you would undoubtedly prefer to keep your new car safe. A comprehensive plan offers coverage for damage or loss by your car to a third party vehicle or driver or property along with damage or loss caused to your car as well due to natural disaster or manmade calamities. On top of that, all car insurance companies come up with a bunch of add-on covers that you can also avail to extend your existing coverage.
Top 10 Car Insurance Providers in India
This list of top 10 Car Insurance Companies is made on the basis of several different parameters such as benefits, unique features, after-sale service, claim settlement record and many more.
1. Tata AIG General Insurance
Being founded in 2011, Tata AIG offers car insurance solutions to private cars, two wheelers, commercial vehicles and second-hand cars. Here are some unique features of Tata AIG that puts the insurer in the top position.
Pick-up of car is available free of cost
Warranty for accident-repair is available for up to 6 months
Claim is settled within 7 days
Availability 12 unique add on covers to provide improved protection
2. Royal Sundaram General Insurance
Royal Sundaram is the first general insurance company in private sector to get a license from the Insurance Regulatory and Development Authority of India in the October of 2000. Royal Sundaram is the first private insurer to collaborate with banks in order to sell selling retail insurance products. Here are some unparalleled traits that have made Royal Sundaram a standout car insurance provider.
Roadside Assistance is available 24×7 for emergencies out of accidents
Dedicated helpline is available 24X7 to help out policyholders in time of claim settlement
Dedicated personal relationship manager is available to guide insured people in case of a road mishap and to provide claim support
Fast authorization is available after an accident to repair damaged cars to get it back on road as fast as possible
3. Bajaj Allianz General Insurance
Bajaj Allianz obtained registration certificate from IRDA in the May of 2001 to carry out insurance business in India. The Company won the 'Insurer Claims Team of the year' by Claims Awards Asia 2014. ABP News BFSI awards 2015 also honoured Bajaj Allianz as the 'Best Insurance Company of the Year'. You can select from three different car plans.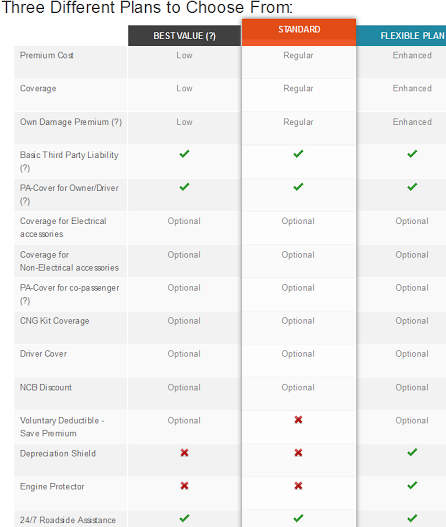 Source: bajajallianz.com
The below are the USPs of Bajaj Allianz car insurance.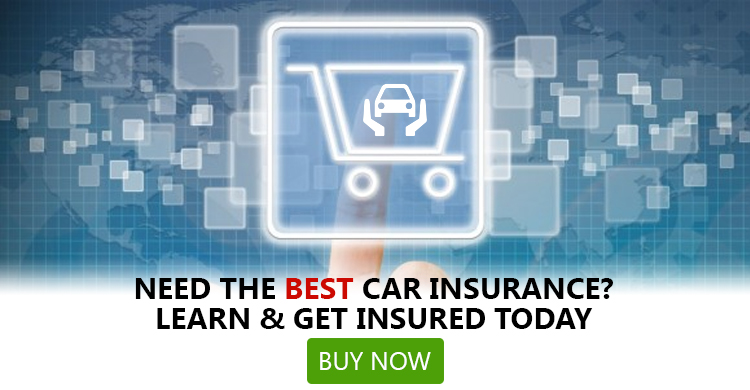 More than 1500 preferred garages are available for cashless claims. Policyholders are eligible for 75% on account payment in case cashless facility is unavailable

Policyholders are entitled to shift as much as 50% of their existing No Claim Bonus from their previous car insurance providers

Dedicated telephonic service is available 24×7 on holidays as well to provide support during claims settlement and for any other issues

In case a car gets damaged due to an accident, towing facility is available

Policyholders can avail high standard service and get their cars inspected at selected workshops

4. Universal Sompo General Insurance This insurance company happens to be the first ever Public Private Partnership in Indian General Insurance Industry. The Company obtained the Registration Certificate and license from IRDA in the November of 2007. When it comes to motor insurance, the insurance company has made a mark with its bespoke roadside assistance. Here is a complete break-up of Universal Sompo roadside assistance program.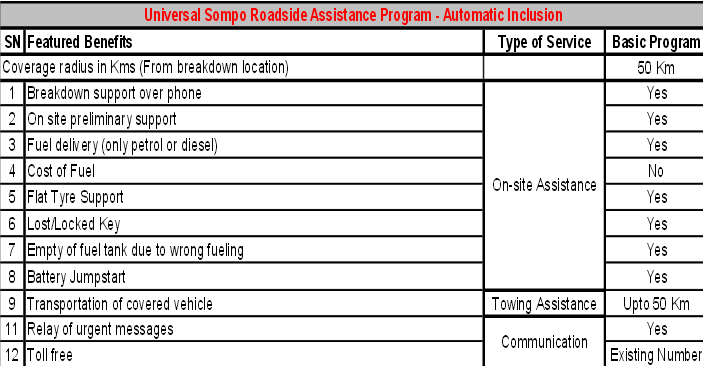 Source: universalsompo.com
Some Significant Features of Universal Sompo Car Covers
Discount is available for claim free policy year, installation of anti-theft devices, high amount of voluntary excess, and also for membership of Automobile Association
Mentally child, handicapped and blind people are entitled to receive concession for specially designed vehicles
Defined depreciation value is available for damaged parts that require replacement
5. Reliance General Insurance Company
Reliance General Insurance Company came into existence in the August of 2000 and obtained license from IRDA in the October of the same year. Reliance General Insurance became the first ever insurance company in India to receive the ISO 9001:2000 certificate. Reliance General Insurance offers extensive coverage in its car policies. Here are some chief benefits of availing car insurance plan from Reliance General Insurance.
Roadside assistance is available free of cost
Policyholders can retain No-Claim Bonus that they have earned even after making a claim
More than 2300 garages available in company's network to facilitate cashless service
A host of customized add-on covers are available to provide extended coverage
6. ICICI Lombard General Insurance
ICICI Lombard General Insurance Company is established in 2001. Ever since the inception, the insurance establishment has gone from strength to strength. At present, the company is regarded as the largest general insurance company operating in India. As far as the motor insurance is concerned, the company is highly sought-after by car-owners in India. Let's have a look at the third-party liability cover offered by ICICI Lombard.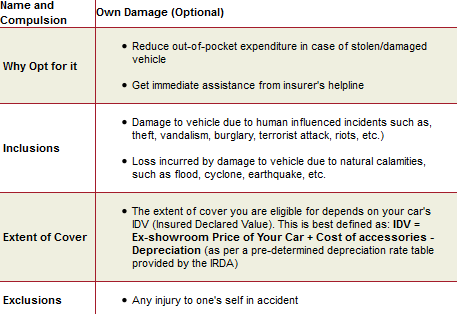 Source: icicilombard.com
Here are some exclusive features of ICICI Lombard car insurance plans;
More than 2900 garages are available in the network of the company to facilitate cashless service
Coverage for towing facility is available up to Rs.1500
Surveyor facility is available at the doorstep
Free Renewal Reminder Service is available for free of cost and policyholders can also track their claim status online
Here is a complete breakdown of the own damage cover provided by ICICI Lombard.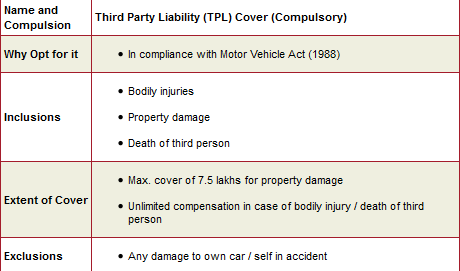 Source: icicilombard.com
7. Oriental Insurance General Insurance Company
The Oriental Insurance Company Ltd was founded in 1947 at Bombay. Over the years, Oriental Insurance has established itself as one of the premier general insurance providers in India. ICRA endowed this age-old insurance house with iAAA rating which is a rarity for an Indian insurance company. Here are some highlights of car insurance cover on offer at Oriental Insurance.
High rate of claim settlement
Availability of a bunch of useful add-on covers
Claims are settled without any unnecessary delay
Oriental Insurance is one of the trusted names in India's car insurance sector
8. HDFC ERGO General Insurance Company HDFC ERGO is founded in 2002.The company is rated by ICRA Limited rated this insurance provider as 'iAAA' and the establishment also boasts ISO certification for offering flawless claim service to policyholders. Let's go through the unique features of HDFC ERGO motor insurance policy.
Discount is available for Automobile Association Members and for those who are associated with specific occupation
More than 3000 garages are available in company's network to entertain cashless claims
Registration process is fast and with least number of documents
Availability of a bunch of discount offers
9. The New India Assurance Co. Ltd. The New India Assurance Co. Ltd. was founded in 1919 by Sir Dorabji Tata. New India Assurance was nationalized in 1973. New India Assurance is the only Indian insurance company to be rated by an international rating agency. A.M.Best Co. rated New India Assurance A- (Excellent). Car insurance plans available at New India Assurance are in great demands among prospective policy buyers for some unparalleled features such as;
Decision on claim request is made within 3 days of application
Surveyor is appointed well within 2 working days after the claim intimation
Grievance is acknowledged in 3 days of receipt
Grievance is resolved in 15 days of receipt
After the discharge of voucher receipt, claim payment is made within 3 days
10. Bharati Axa General insurance Bharati Axa began to operate across the country in 2008. This general insurance company happens to be the very first general insurance provider in India to secure both ISO 9001:2008 and ISO 27001:2005 certificates in 2009, within its 1st year in operation. The car insurance policy on offer by Bharati Axa are highly acclaimed by thousands of car-owners in India.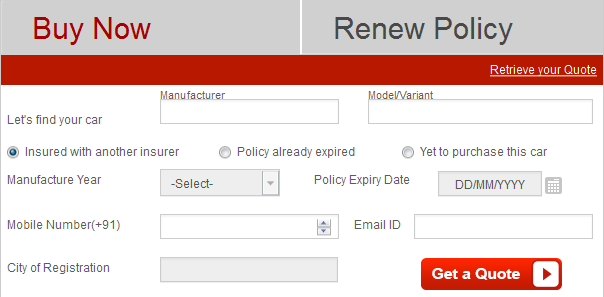 Source: bharti-axagi.co.in
The following are the features of Bharati Axa car insurance policy;
Availability of valuable add-on covers in the likes of Depreciation cover, No Claims Bonus Protector, Hydrostatic Lock Cover, Roadside Assistance
Assistance available for lost keys
Coverage is available for repairing bags, batteries and rubber
At the time of settlement, policyholders are guaranteed to get repaid on depreciated car parts
Conclusion
You need to choose an adequate and appropriate insurance plan with care. It is prudent to go through all terms and conditions written on information brochure of car policies beforehand.
Car insurance is one of the most significant aspects when it comes to maintaining your car. Since all companies' offerings are apparently great, you should be on the lookout for a car insurance company that offers impeccable after-sale service. All the 10 car insurance companies mentioned above are rated well by the customers and you can pick any one of those depending on your requirements, location and budget. It will be better for you if you decide on the insurer even before purchasing the car.
With the advent of online insurance portals you no longer need to visit any brick and mortar insurance company to find a suitable deal. The best thing you can do is visit the portal of GIBL, the best online insurance comparison portal in India and put in the details of the car you are going to buy. Within a few seconds, you will get a host of car policy quotes. GIBL offers the lowest price quotes in India so you can rest assured of getting the best insurance cover for your car that you can easily afford