With the arrival of the new year, the time for the car insurance renewal online is imminent for many car-owners in India. And, those who don't have a car yet are planing to buy one this year especially after the reduced price of diesel and petrol. Both set of people need to gather information about various car insurance companies in India in order to select the best provider. Here is a comprehensive list of top 5 car insurance companies that well and truly deserve your attention.
1. TATA AIG
Tata AIG marked 15 years of relentless service in 2015. The company have recently come up with an innovation known as 'Go Digital' that allows for seamless sales process. This reputed general insurance company also established Tata AIG Academy in the May of 2014 with a view to impart knowledge in general insurance niche.
Tata AIG motor insurance plans include private car insurance, commercial vehicle insurance and two wheeler insurance. The below are the key features of Tata AIG private car insurance plans.
Distinct features
Availability of Green Channel Settlement to facilitate easy claims regarding accident and repairs

Auto Restore Warranty is available for those policyholders who avail Green Channel Settlement

Availability of 12 add on covers for additional protection

Facility of cashless claim settlement at company's network garages

Availability of free pick up of car

policyholders can settle their claims in 7 days
2. BAJAJ Allianz
Bajaj Allianz made a profit of Rs. 777 crore before tax to become the only general insurance company in private sector to go past the hallmark of Rs.100 crore in last two years in profit before tax.
The company received Certificates of Appreciation by Punjab and Haryana High Court and Rajasthan High Court for bespoke performance in third party motor insurance claims. Bajaj Allianz also grabbed The Silicon Valley Business Award 2015 for its innovative product called Insurance Wallet in categories like Best Financial and overall app categories.
Distinct features
By using Insurance Wallet you can download, view and manage your policy document easily

The app also helps policyholders in locating a network hospital, branch and garage in their proximity and even intimating a motor claim from anywhere and at anytime

MobiFuel is another innovation from Bajaj Allianz. This android mobile app is free and it provides policyholders with necessary support on the go to manage their service records and mileage of their vehicles.

This MobiFuel app can further be utilized to have insurance records stored and also to provide policyholders with vital services like timely re-fuel and insurance renewal reminders.

Policyholders can settle their cashless claims in more than 1500 network garages. Policyholders receive 75% payment on account when this facility is unavailable.

Towing facility is available over phone or online even on holidays if the insured car of the policyholders meets an accident or breaks down.

Network garages of Bajaj Allianz facilitates policyholders a hassle-free inspection, high standards of service and cashless claims settlement.
3. ICICI Lombard
ICICI Lombard is the largest general insurance company in India's private sector. For the financial year that ended on March 31, 2015 the company boasts a GWP of Rs 69.14 billion.
In 2013, a survey was commissioned by Ministry of Consumer Affairs, Dept. of Consumer Affairs in India to assess Customer satisfaction and ICICI Lombard received the highest rating and also regarded as 'The Most Recommended Company'. World Brand Congress declared 'The Save Money Motor Insurance' campaign by ICICI Lombard in 2010 as the Best Marketing Campaign of the Year.
Distinct features
Availability of road side assistance cover to assist you anywhere and at anytime

Availability of garage cash cover that provides policyholders with daily allowance of of Rs. 500 when their cars are in garage

The facility of availability of surveyor at your doorstep

Prospective policy buyers can purchase car insurance online on EMIs

Policyholders can avail cashless facility in over 3350 network garages all over India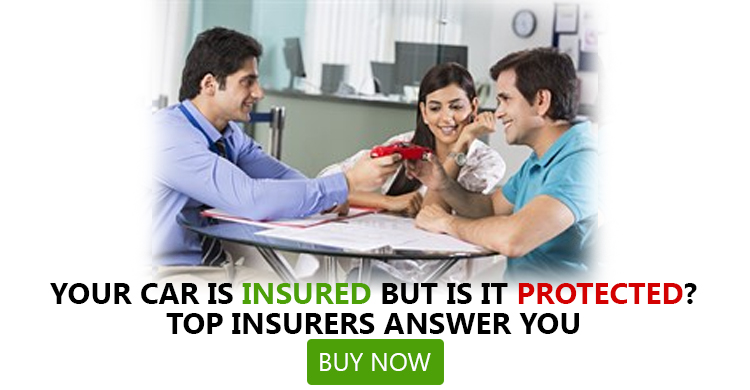 4. L & T
The comprehensive car Insurance policy of L & T brings a myriad of fixed coverage along with an array of optional covers. Here are the exclusive features of L & T Car Insurance Policy. Distinct features
Coverage for non-electrical parts like seat covers, alloy wheels
Coverage for various accessories like music system and car air conditioner
For personal accident Rs 2 Lakhs coverage is available for 5 passengers
Coverage for your liabilities to the paid driver
Rs. 500 discount is available for installation of different anti-theft devices
Policyholders can extend coverage beyond the geographical boundary of India
5. Future Generali
Apart from the one of a kind claim processes, numerous helpful add on covers are associated with Future Generali comprehensive motor insurance plan.
Distinct features
Coverage for theft or loss of Keys: Being armed with this add-on cover policyholders are entitled to have the expense due to the charge of locksmith or the lock itself or cost of replacement of stolen keys reimbursed

Inconvenience Allowance cover: Policyholder can avail this add on cover to get paid for the days when the insured car of the policyholders is in the garage.
Premium and incurred claim ratio of top 5 car insurance companies in 2016 in India
The list mentioned below is of premium and incurred claim ratio of top 5 car insurance companies in India in 2016. The premium rates are calculated for a 5-seater Honda City car with cubic capacity of 1343cc. The model variant is 1.3DX, petrol. The car is registered in the month of May in 2015 in Kolkata. The car-owner didn't opt for voluntary deduction or any other type of discount. All the premiums mentioned below don't offer coverage for car accessories.
| | | | |
| --- | --- | --- | --- |
| Insurer | Plan | Premium | Claim incurred ratio |
| Tata AIG | Private Car Package Policy | Rs. 29027 | 70.91% (up to 30th September 2015) |
| Bajaj Allianz | Auto Secure policy | Rs. 18016 | 70.64% (up to 30th September 2015) |
| ICICI Lombard | Comprehensive auto insurance | Rs. 29027 | 82.60% (up to Q1 2015-16) |
| L & T | Comprehensive car insurance | Rs. 29027 | 74.37%(up to 30th September 2015) |
| Future Generali | Private car insurance | Rs. 29027 | 82.72%(up to 30th June 2015) |
Source: GIBL.IN
Conclusion:
A comprehensive car insurance plan gives relief when the car meets an accident or is being stolen. If you settle with a car insurance online plan you can save both money and time. However, to carry out the task of insuring your car efficiently you need to find a reliable and reputed car insurance company in India. This list of top 5 car insurance companies in 2016 in India will guide you the selection of the best car insurance plan for your car. GIBL allows for detailed comparison of as many as 4 auto insurance policies online simultaneously. Once you decide on a particular online car insurance policy you can avail it right from the portal of GIB within a few minutes.