Car insurance in India is not a choice. Third-party car insurance is essential in India as per Indian Motor Act. Although, comprehensive insurance is not compulsory it is strongly recommended. This type of car policy will protect your own car financially from damage or loss due to natural or man-made disasters. Along with the car insurance plans you should also consider add on cover that almost all car insurance companies in India provide for additional protection at a nominal price.
Since, car insurance online plans are abundant in India, finding the right online car insurance plan is far from being an easy task. If you have a car or planning to buy one, you might have to run from pillar to post in search of the best car insurance plan online in India. To make you job easy, here is a compilation of top 5 car insurance plan in India in 2016. You can go through the features and gain information on each car policy to select the one that meets your needs best.
Top 5 car insurance plans in India
This comprehensive list of top 5 Car Insurance plans in 2016 in India is made in terms of factors like premium, claim settlement record, unique features as all online car insurance plans with comprehensive coverage take care of 'own damage' and 'third party liability' along with a set of regular coverage.
L & T Private Car Package Policy
The comprehensive car Insurance policy of L & T is known as my: asset Private Car Package Policy. It brings not only an array of fixed coverage but you can also opt for a range of optional covers. Let's take a look at the unique features of L & T Private Car Package Policy.
Coverage is available for accessories like car air conditioner and music system

Coverage is also available for non-electrical accessories such as alloy wheels, seat covers

Coverage of Rs 2 Lakhs is available for personal accident for up to 5 passengers and you

Coverage is available for your legal liabilities to your paid driver as well

You can retain your NCB in your L & T Private Car Package Policy

You can also opt for voluntary excess and save as much as Rs 2500

Discount up to Rs. 500 is available for installing anti-theft devices

The geographical boundary of coverage can be extended beyond India
The coverage amount depends on the type of coverage you want and on the IDV of your car.
2. Tata AIG Auto Secure policy
The comprehensive car insurance policy from Tata AIG is known as Auto Secure. The plan has been one of the most sought-after online car insurance plans in 2015 and it will also rock in the year of 2016. The policy comes with a myriad of exclusive advantages much to the delight of those car-owners that are constantly on the lookout for extra assurance.
You can settle your claims directly at special workshops

You can opt for Green Channel Settlement, an one of a kind innovative measure by Tata AIG to get repairs and accident claims done more easily from recognized workshops

'Auto Restore Warranty' facility is available for those policyholders who choose to go for Green Channel Settlement.

You can opt for add on cover like daily allowance to reduce your hassle and meet the expense of hired transport in case your vehicle is damaged due to a danger mentioned in the car insurance plan

You can avail unique add on cover like hire or courtesy car to decrease your trouble if insured Vehicle is down due to 'Own damage'.

You can avail exclusive add on cover like loss of personal belongings to get compensated for loss or damage to personal belongings of yours or your family members' if at the time of loss or damage they are inside the car

Another exclusive add on cover is emergency transport & hotel expenses which will provide you financial cover against expenses like taxi fare to get back to the nearest locality or your residence and overnight stay in case your car meets an accident by any peril covered in your online car insurance policy.
You can also select from the predetermined add-on bundles on offer at Tata AIG.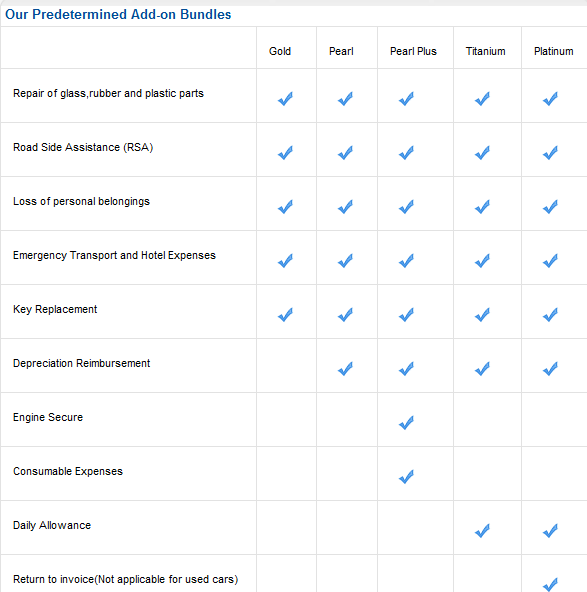 Source: Tata AIG Insurance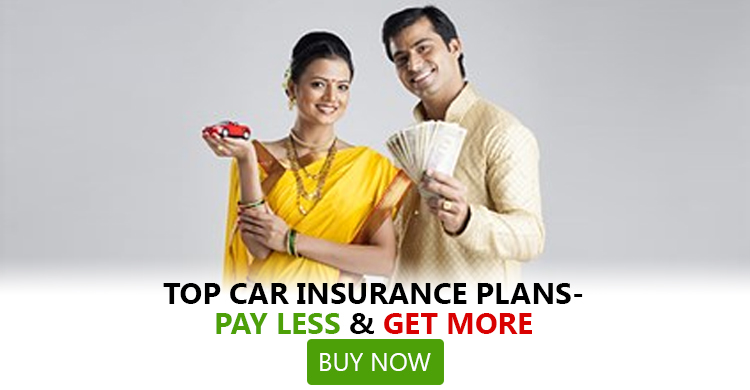 Future Generali comprehensive auto insurance
The process of car insurance claim can be complicated and consequently unmanageable. The comprehensive car policy at Future Generali, therefore, to ease your discomfort has come up with innovations like Future Xpress and Future Xpress+. These exclusive features helped the Future Generali Motor Insurance plan to make it to the third place in the list of top 5 car insurance policies in India in 2016. Let's see what these innovations are all about;
Future Express
This innovative process allows for car repair on priority basis at a reduced cost at any workshop of Future Generali. Here are the details of this ground-breaking procedure.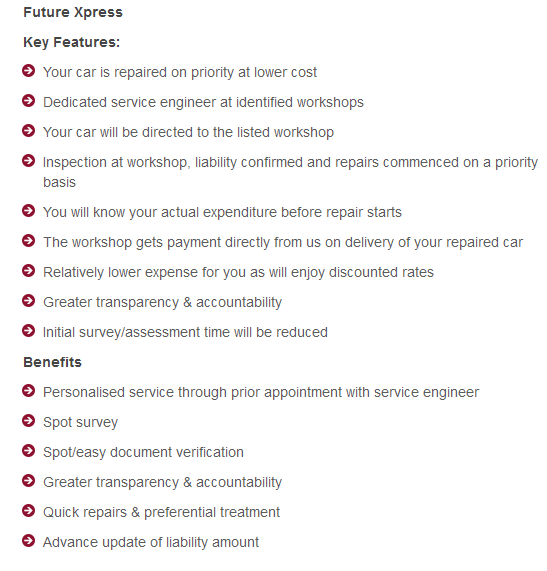 Source: Future Generali
Future Xpress+
If you opt for this advanced process you can check your damaged car and get a clear idea about the loss. The process further facilitates you to settle your claim on the spot. You can also repair your insured car at any workshop of your preference and at anytime convenient for you. The below are the features and benefits of this exclusive claim process.
Source: Future Generali
Aside from the innovative claim process, a number of useful add on covers are also associated with the comprehensive motor insurance plan at Future Generali.
Coverage for loss or theft of Keys: By availing this add-on cover you will get the cost reimbursed due to replacement of stolen or lost keys or the charge of locksmith or the lock itself

Return to Invoice cover: If we declare your car as a total loss as a response to a claim request, we will pay the deficit amount between what you will receive from car insurance plan and the price of car at the time of buying as confirmed in the invoice of sale.

Inconvenience Allowance cover: If the absence of your car is causing your inconvenience you can opt for this add-on cover to get paid for each day of the entire period in which you car is unavailable for repairs due to accident.
4. Bajaj Allianz comprehensive car insurance
Bajaj Allianz comprehensive car insurance plan will be all the rage in 2016 in India with its newly introduced EEZEE Card. This card is designed to make up for the increasing medical expense by making policyholders eligible for discounts from expenses like pathological investigations, OPD, selected surgical procedures, lenses, optical frames, dental care and the likes. Policyholders can avail discount from the service providers in the network of Bajaj Allianz.
By availing EEZEE Card you are entitled to multiple discounts at health centers in India. Here are some of the advantages of opting for an EEZEE Card:
Discounts on OPD expenses at selected health centers in India

Pathologies' discount at selected health centers in India

Radiology discount at selected health centers in India

Wellness test discounts at selected health centers in India
Aside from the EEZEE card, Bajaj Allianz car insurance policy also facilitates policyholders a plethora of key benefits such as;
You can settle your cashless claim at more than 4000 preferred workshops after repairing your vehicle

In case cashless facility is not in store, you will receive 75% payment on account

You can transfer your existing NCB up to 50% from any car insurance company in India

You can avail towing facility in case your car meets an accident or breaks down
Universal Sompo private car insurance
Our list of top 5 Car Insurance plans in 2016 in India ends with the comprehensive car insurance plan offered by Universal Sompo. Let's go through the unique features of this comprehensive online car insurance plan which will put the policy in great demands in 2016 in India among car policy buyers.
Roadside Assistance
If your insured car runs out of fuel you can seek fuel delivery service and get up to 5 liters of fuel (diesel or petrol) delivered by paying the cost on-spot.

If your car's fuel tank gets filled with incorrect fuel, you can avail the service of emptying the fuel tank. If this service is not viable, your car will be towed to the nearest workshop.

If your car's battery is discharged and you cannot start your car, you can opt for the battery jumpstart service
Add on Cover for Accidental Hospitalization
If your insured car meets an accident and the passengers (your family members) suffer from accidental injuries and require hospitalization, you can make the most of this add on cover to get the expenses due to inpatient hospitalization reimbursed.
Secure Towing add on cover
If you avail this additional cover the entire cost (up to Rs. 15000) associated with the removal of your car to the closest repairer and the re-delivery of your car.
Daily allowance add on cover
By availing this additional cover you can get cash on daily basis for up to 5 days if your car is kept in a workshop for repair for over 3 days. However, you can avail this cover only if your car is not more than 5 years old. Here is a total break-up of the daily allowance that you are entitled to;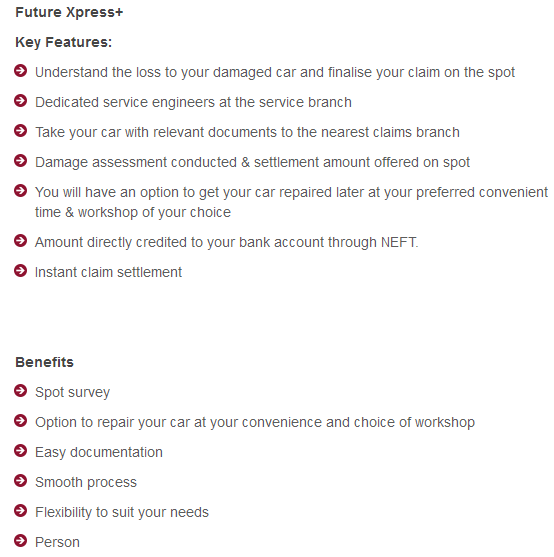 Source: Universal Sompo
Premium and incurred claim ratio of top 5 car insurance plan in 2016 in India
The following list of online car insurance premium is determined for a 5-seater Maruti Swift car with cubic capacity of 1197. It is estimated that the car is registered in Kolkata and in the May of 2015. Neither voluntary deduction nor age or any other type of discount is being opted for. All the below- mentioned policies don't cover car accessories as well.
| | | | |
| --- | --- | --- | --- |
| Insurer | Plan | Premium | Claim incurred ratio |
| L & T | Private Car Package Policy | Rs. 18586 | 74.37% (up to 30th September 2015) |
| Tata AIG | Auto Secure policy | Rs. 18586 | 70.91% (for the quarter ended on 30th September 2015) |
| Future Generali | Comprehensive auto insurance | Rs. 13679 | 82.72% (up to 30th September 2015) |
| Bajaj Allianz | Comprehensive car insurance | Rs. 12985 | 70.64% (up to 30th September 2015) |
| Universal Sompo | Private car insurance | Rs. 12698 | 72.67% (up to 30th December 2015) |
Source: GIBL.IN
Conclusion
Your car is one of your most valuable assets. You take utmost care of your car and while driving, you are one of the safest drivers on the road. But you never know about those who are driving in front, beside and behind you are. So, your car's safety is not always in your hand. This is where the importance of a comprehensive auto insurance policy comes into play. If you have a car you need to renew its insurance every year. Apart from car insurance renewal online, you might also look to avail new car insurance plans if you are planning to buy a new car. To get the best car insurance plan online you should compare all the available policies.
At GIBL, you can go for quick and effortless online car insurance comparison. And select the best plan as per your requirement and budget. This list of top 5 car insurance plan in India in 2016 should also guide you to choose the best suited plan for your favorite possession. When you select a particular online auto policy you can buy it right from the portal of GIBL as well.