A travel cover is always a must while going for a trip, be it a small trip within the country or a longer vacation abroad. Similarly, a travel plan is of utmost importance regardless of the size of the group. Be it a solo traveler or a group of 3-4 family members a travel policy is crucial.
In this article, I am going to stress on the importance of having family travel insurance. In India, there are umpteen numbers of families that go for trips in or outside the country oftentimes. These families often consist of senior citizens and children. In a particular trip, these people are more likely to fall sick due to their strength of coping with poles apart weather, unusual food is less compared to that of young adults. This is where a travel plan comes handy, especially in case of an international tour. The cost of medical treatments in foreign countries is insanely high and without a travel plan it would surely make a dent in one's budget.
Let's gather some vital information about overseas travel policies that are meant for families.
Who and what types of trips are best suited to family travel insurance policy?
Family travel covers offer an all-inclusive protection for the entire family. The total permissible member in a family travel cover varies from one travel insurer to another. Usually, most travel insurance providers allow up to 4 children. These travel plans are meant for both leisure and business trips and they encompass all family members under one single plan and for one premium as well. Unlike an individual policy, Sum Assured (Coverage Amount) is shared by all the family members.
Parents that are below 60 year of age are delighted to have such a travel plan. They can effortlessly include their children who are adult family members in the same plan without having to get individual policies for them and pay more.
Under a family travel plan, all members included in the plan can utilize the total coverage amount.
Family travel insurance is well and truly a cost-effective option
Let us suppose, a family of 4 people are planning a trip to UK for 10 days. The age of 4 family members are 55, 50, 25 and 20. The head of the family has decided to go for one family travel policy to have all the family members covered. The chosen sum insured amount is US$ 50,000. After putting in all the necessary information, the family has got 3 travel policies to compare with.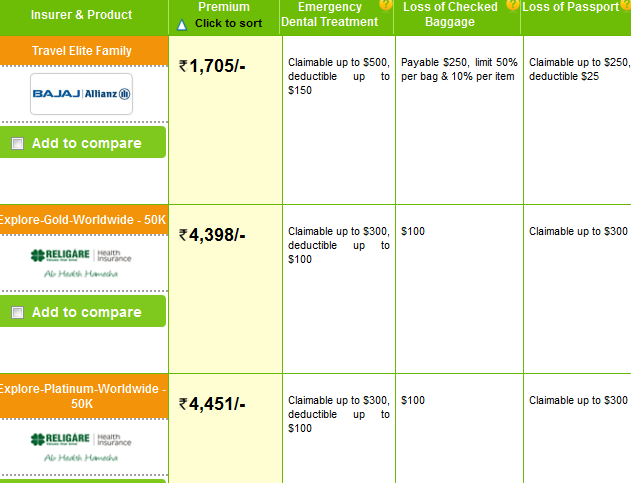 Source: GIBL.IN
The premiums for four available travel covers are in the range of Rs. 1705 to Rs. 4451. Had the family opted for individual travel insurance plans for all four family members, they had to pay a lot more on premium.
Let's calculate travel insurance premium for individually for all members of the family. The lowest premium for the 55 and 50 year old person is Rs. 1060 (keeping all other criteria same). The lowest premium for 25 and 20 year old person starts from Rs. 868. Hence, the total premium for 4 people individually would be Rs. 3856 (Rs. 1060X2 + Rs. 868X2).
By choosing a family travel insurance plan, the family saved Rs. 2151(Rs. 3856 – Rs. 1705) for their upcoming trip to UK.
Let's look at some other significant features of family travel insurance policy.
Who is eligible for this type of travel insurance?
In India, family travel policies are available for people between 6 months and 60 years. These travel covers come with an upper cap for the senior most member of the family. And the upper limit is 60 years. People beyond this age restriction cover are not eligible for family travel plans; they have to go for individual travel policies.
These types of travel plans are valid for the duration of minimum 7 days to maximum 182 days. However, policyholders can extend their family travel plans to as many as 356 days.
What is the maximum sum insured amount available under family travel covers?
Multiple Sum Insured amounts are available for prospective family travel policy buyers. Depending upon the destination the option ranges between US$ 25000 to US$ 500000.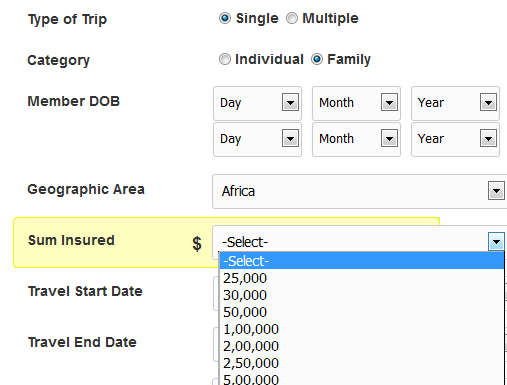 Source: GIBL.IN
A family travel policy is valid for a single trip only. Once the trip is over, the policy becomes null and void. Typically, a family travel plan includes as many as 4 children up to 21 year of age.
Does this travel plan cover pre-existing diseases?
Usually, pre-existing conditions are not included in this type of travel plans. However, there are some exceptions. Some insurance companies offer this coverage in case of emergency.
Additional coverage available in family travel covers
A myriad of coverage is in place for travelers that are looking for a family travel cover. It includes medical evacuation, expenses, repatriation, dental treatment, loss and delay of baggage, trip interruption and cancellation, personal liability etc. Here is a break-up of coverage available in the family travel plan with lowest premium for the above-discussed family of 4 members. The travel plan is provided by Bajaj Allianz and the premium is Rs. 1705.
Source: bajajallianz.com
Families can even renew these policies if they don't make any claim for a particular policy year.
Premium rate for family travel covers
This is a very crucial aspect of a travel plan be it an individual or family cover. Premium depends on a lot of parameters such as age of travelers, duration of trip, Sum Insured amount, holiday destination and the likes. If we take the example of the family plan that offered lowest premium for the above-mentioned family, here is a chart of premium break-up.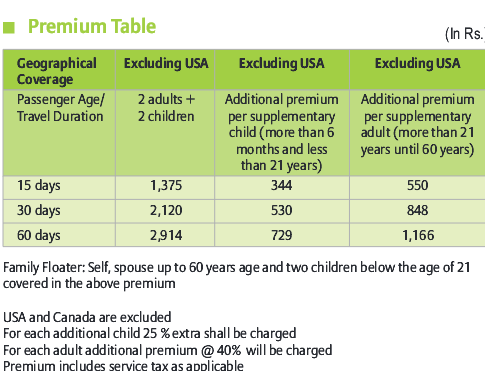 Source: GIBL.IN
These are the terms and conditions associated with premiums. Those who avail this travel plan need to pay premiums consistently throughout the year so that they can lodge claims in time of an emergency. To make a claim successfully, policyholders need to get in touch with their respective insurers or TPAs of their insurance providers as these TPAs are collaborated with network hospitals across the world. Insured people can locate information about their respective TPAs in their policy wordings.
Fine prints that one should be aware of family travel insurance policy
Exclusions
One should note that a family travel insurance policy doesn't cover everything under the sun. There are certain exclusions that are clearly mentioned in policy wordings such as the pre-existing ailments, physical checkup, vision related expenses in the likes of eye test, contact lens, eye glasses, prenatal care and pregnancy. This list doesn't end here, as there can be more exclusion in the policy wordings.
Policy Excess or Deductible
Prospective policy buyers should keep into account that they wouldn't get 100% claim amount that they register. Depending on the family travel cover, there is a deductible of around US$ 50-100 in place that policyholders need to pay out of the total claim amount.
Conclusion
In essence, family travel insurance plans are highly cost-effective options for those who prefer to go for trips with their respective families. Online insurance comparison sites like GIBL.IN have made the job of finding travel policies lot simpler in recent times. Now, one just has to put in details and get a list of policy quotes to choose from.
Hopefully, this article has touched all important aspects of family travel plans in India. If you have any query, feel free to make a comment so that I can get back to you with the answers at the earliest.