To become legally eligible for riding your bike in the Indian street, you must ensure that you have valid two-wheeler insurance. At least the third-party motor insurance which is mandatory by law for all types of motor vehicles in India.
Now when it comes to the renewal of your two-wheeler insurance policy, there are several things that you must keep in mind:
Documents Required for Two Wheeler Insurance Renewal
Check out the below list issued by IRDAI that is followed by both private and public sector insurance companies in case of renewal of bike insurance. The list of documents to be submitted with the insurance renewal form is the following:
Details of the Policyholder such as name, date of birth, gender, address, occupation, etc.

Driving License information of the Policyholder

Registration number and certificate of the vehicle

Old policy number of the two-wheeler

Credit/Debit/Net Banking Details (for online payments)
This information can be found on the old policy documents. In case you want to switch your insurance provider on completion of an existing term, you will be required to fetch these documents:
Proof of Address (passport/driving license/bank passbook/government-issued address proof)

Proof of identity (Passport/Aadhar/Pan card/Voter Id)

Recent photographs
Online Bike Insurance Policy Renewal
With technological advancement, everything is now available online. Be it clothes, food or medicines, today everything is in your fingertips. Likewise, you can now get a policy online, and a claim can be raised online.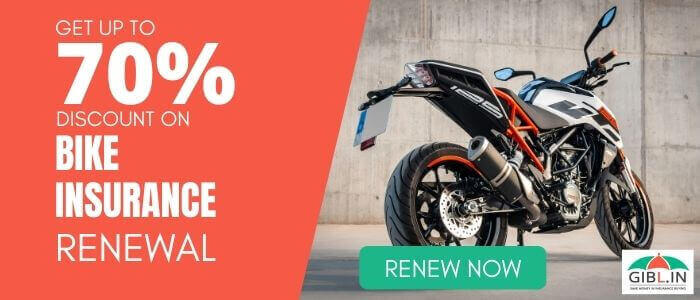 With this push toward digitalisation, you can buy or renew your bike insurance policy online in a hassle-free and effective way. In some cases, online renewal of bike insurance could also save you some money on the premium. All credit goes to some promotional discounts offered by different insurance providers.
Points to Keep in Mind While Renewing Two-wheeler Insurance
You must renew your bike insurance early, at least before the expiry. In their busy life, people often forget the due date for their policy renewal. And once that happens, all the benefits of the policy lapse. In addition to that, you will be fined, if you are found driving a vehicle without valid insurance on the road.
Before the renewal of your two-wheeler insurance, don't forget to look for different policies online before finalising one. The best way to avail the best bike insurance policy online is to compare different plans online. So give an online comparison of different policies a shot.
With everything happening online, you can now compare the price and see different offers online. It will certainly help you in making a better decision.
You can avail a discount on the Own Damage (OD) premium with a No Claim Bonus (NCB). To avail this benefit, it is important to never claim small damages and to renew your policy on time. Get a good policy for your two-wheeler vehicle and ride safely with your new insurance policy.
You can check out the top plans for your bike here and renew with some additional benefits.