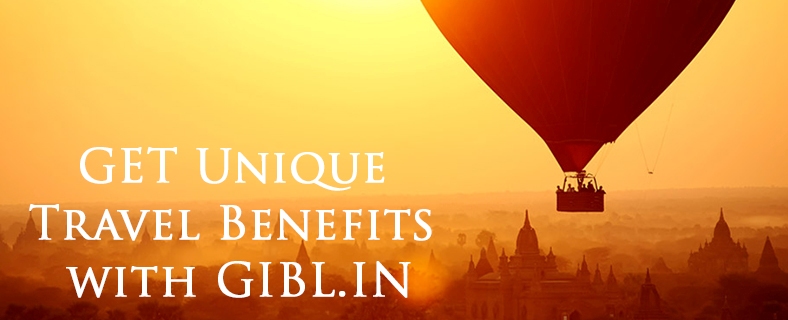 Holiday season comes and you are off to your dream destination. You have been planning for this for a long time and have been arranging everything meticulously. A trip to Europe is well and truly an exciting proposition. But, have you thought about ensuring your safety during your holidays? Just like you need visa and passport in order to be eligible for a trip to overseas countries, you also need a travel insurance to keep yourself financially protected from any unexpected hazards.
Since travel insurance in India is not mandatory, many travelers tend underestimate its significance. These people are under the misconception that travel insurance companies charge higher premium and some people think investing in a travel cover in India for just a trip or two is a luxury. However, both notions are far from being the truth. A comprehensive travel insurance online cover provides wide coverage and safeguard financial losses of travelers during their sojourn in a foreign country.
There are scores of travel insurance companies in India with a multitude of seemingly similar travel insurance policies online. These travel insurance online plans are designed for varied travel purposes such as leisure family holidays, official and business trips, visits for study and employment. So, you should compare travel insurance online plans in terms of coverage and other benefits depending on your type of travel. After making travel insurance online comparison, you need to make an informed decision. Let's check out the aspects of losses where travel policies play an effective role to reduce the economic burden of people.
Coverage of A Travel Insurance Plan
The coverage of online travel insurance policies varies from one plan to another, However, almost all travel insurance online plans available in India offer some basic coverage to shield unforeseen expenses.
Medical Expenses
If you travel to US or in any European country for that matter and fall sick, you have to pay exorbitant amount to pay your bills if you are not armed with any travel insurance. However, some travel policies, especially the cheaper ones, impose limit in covering treatment expenses and you should steer clear of those travel plans. Look for those travel insurance plans that cover the entire medical expense so that you don't have to pay a penny from your own pocket.
Loss Due to Loss of Luggage
If you are going for an international trip with costly items such as laptop, camera and the likes and if your luggage gets stolen, your financial setback would be huge and this is where travel insurance comes into play. You should be on the hunt for a travel insurance plan that covers the loss of baggage up to the real value of the lost items.
Cancellation & Delay of Flights
Oftentimes, international flights are delayed or canceled due to inclement weather or any other reason and travelers have to suffer for this. They have to alter their schedule, extend their stay in the hotel and all these lead to additional expenditures. Travel insurance plans provide coverage in this type of situation by paying out compensation according to the situation.
Types of Travel Insurance Plans
Travel insurance policies in India are of varied types. If you are a frequent traveler, you should go for a multi-trip travel insurance plan that remains effective for the entire policy duration. Single trip travel policies are perfect for those travelers who make international trips only once in a while.
If you are an individual, you have to go for individual travel insurance policy but if you are going with a family you have to opt for a family travel insurance cover. For students, senior citizens and professionals, there are specific categories of travel policies as well.
Do Research Before Making the Final Pick
Don't just pick any random travel plan or a plan that your friends and relatives have availed. You need to understand your own requirement and select a travel plan accordingly. You should go through the policy document closely and trace out hidden clauses such as sub-limits on coverage. You should keep a close eye on the exclusions and fine prints of travel insurance plans. The reputation of the travel insurance company in question and its performance in term of claim settlement, grievance redressal and customer service also need to be assessed before making the final choice.
Best Overseas Travel Insurance Plans for Family
Now that you what to look for while finding the best travel insurance for overseas trips, you should also gather some idea about the your premium outgo to keep your entire family safe and secured during your international trip. The following list is an indicative one and it showcases all the available single-trip family travel insurance policies in India available for a family of 4 members, consisting of 2 adults between 18 and 40 years; husband, wife and two children between 0.5 and 18 years. The chosen Sum Insured is $ 1Lakh and the chosen destination is worldwide and the duration of the trip is 7 days.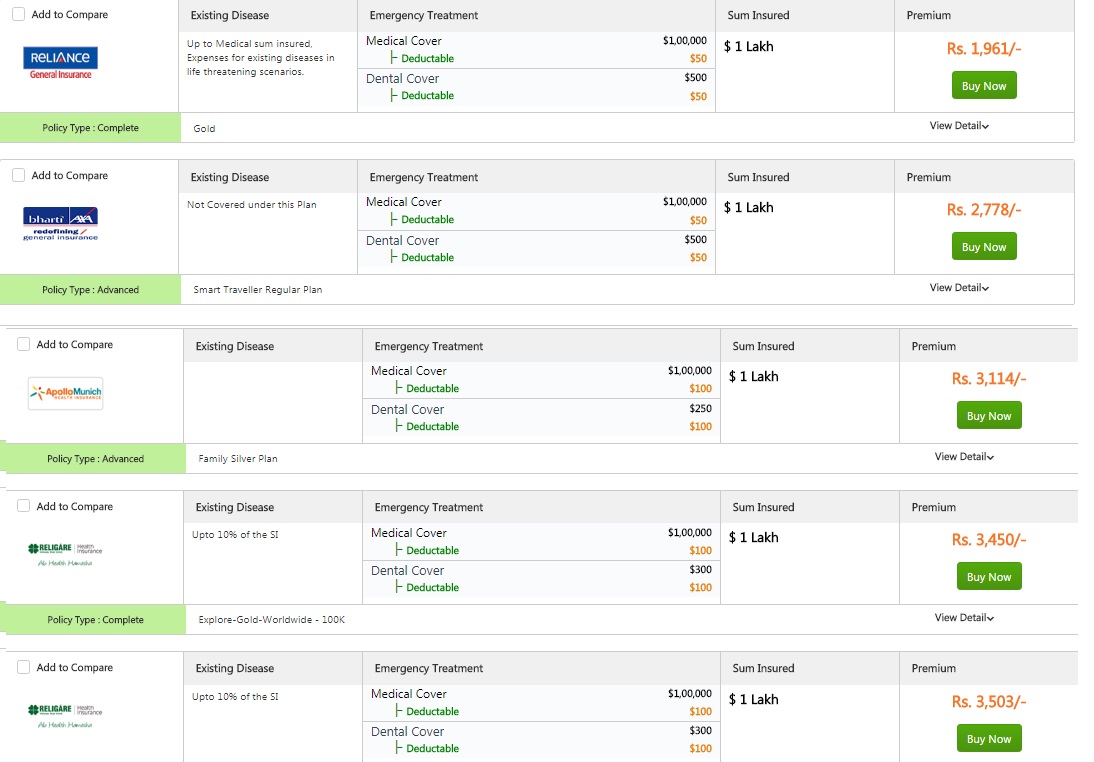 There are 5 available travel insurance policies that match your criteria. Reliance Gold Plan provides the cheapest travel cover at just Rs. 1961 and it is also the best plan in terms of coverage.
How to Make a Claim on Your Travel Insurance Online Plan?
After being aware of what does a travel insurance plan in India covers and how much do you have to pay to avail the coverage, now you need to know how to make claim on your travel insurance plan, simply because, if you don't make a valid claim you won't be avail the coverage you have paid premium for. Travel insurance claims are of many types, let's take a look at different types of travel insurance claim. However, regardless of the type of the travel insurance claim, you need to keep toll-free numbers of the provider of your travel insurance plan handy so that you can get in touch with them as soon as you are in trouble and register the claim at the earliest. Alternatively, you can also drop a mail to your travel insurer and ask them to call you back. Upon intimating, professionals working with your travel insurance company will provide you with the details of your coverage, network hospital in the overseas country of your destination and the Embassy address as well.
Travel Insurance Claim for Medical Reasons
Doctor's prescriptions and bills are handy to make a valid medical claim on your travel insurance policy. You need to send soft copies of medical reports to your insurer back in India in support of your claim.
Travel Insurance Claim in Case of a Mishap
A police report is essential to file a valid accidental claim on your travel insurance plan. An authentic police complaint is the key to validate an accidental travel insurance claim along with other necessary details.
Importance of Documents in Lodging a Travel Insurance Claim
Filling the claim form with exact information is the first and foremost thing to get your travel insurance claim approved. Along with the duly signed claim form, you also have to submit, original and photocopies of police report, doctor's report, diagnostic reports and your id cards like Adhar Card or PAN card. In case, you make the trip with any travel agency, you have to furnish the details of your chosen travel agency as well.
How to Avoid Claim Rejection?
Many travelers' travel insurance claims got rejected because they don't follow the right steps of filing travel insurance claims. Here are the most common reasons behind travel insurance claim rejection.
If you don't submit original reports, your claim will be denied
If you make a claim on pre-existing illness, your insurer will not entertain claim
If you travel without permission of your doctor and fall sick in the middle of your foreign trip, your medical claim will not be covered
Any self-inflicted injury or wounds due to terrorism, war or war-like actions, mental disorder are excluded from the coverage of travel insurance plans
Expenses of treatments of stress, anxiety, alcoholism, abuse of drugs, HIV are not included in the travel insurance policy coverage
Any claim for pregnancy related expenses during trip is not approved by any travel insurance plan
Keep Your Domestic Trips Safe
Now you know all that you need to know about overseas travel insurance plan. But, what about domestic travels? Most people in India select destinations within the country to spend holidays and to cater to their travel insurance needs Bajaj Allinz have come up with a domestic travel insurance plan called Bharat Bhraman. The beauty of this domestic plan is it comes with compulsory personal accident coverage and optional coverage against adventure sports and burglary at home in the absence of the policyholder. The personal accident coverage is on for several different transports including bi-cycle. For frequent travelers, long-term Bharat Bhraman domestic travel insurance plan is available as well. The coverage amount of this travel insurance policy is in the range of Rs. 50,000 to Rs. 10 Lakhs.
You can avail this travel insurance plan for a single day or multiple days. The domestic travel insurance plan comes in 5 variants on the basis of coverage during traveling in various modes of transport.
| | |
| --- | --- |
| Type of plan | Mode of transport |
| Plan A | E-commerce cabs |
| Plan B | Train |
| Plan C | Bus |
| Plan D | Flights |
| Plan E | Any other modes of transport |
The premium of this domestic plan largely depends on the coverage chosen and the Sum Insured opted for.
Sum Insured

Coverage

Premium

Rs. 10 Lkahs

Basic coverage + all add-on covers except adventure sport coverage

Rs. 3365
There are not many travel insurance plans in India that offers coverage within the country. This domestic travel insurance can be useful for you if you visit different cities in India for official and business purposes and also when you take your family for a trip within India.
Ensure the Validity of Your Travel Insurance Plan
After gaining extensive information about both domestic and overseas travel insurance plan, you are now ready to take the plunge. However, there is one more crucial thing about travel insurance in India, that you yet to know.
If you are planning an international trip shortly, you must buy travel insurance plan before your flight takes off. You cannot buy travel insurance in India after clearing immigration checking. Even if you do so, it will be a complete waste of money as you cannot make any claim on your travel insurance plan.
The reason is once you clear the immigration, the coverage of an overseas travel insurance plan becomes effective even if you are still within the territories of India. So, you have to make the purchase before reaching airport to ensure that your international travel insurance policy is effective and you will get the required assistance if and when the time comes.
Alternatively, you can avail travel insurance from insurers of the country you want to visit but you have to pay exorbitant premium.
Conclusion
Finally, you are all set to buy travel insurance online. You can make the purchase right from the portal of your chosen insurer, but it would be wise to compare travel insurance plan online and see if any provider has any better deal or not than your chosen provider. To compare travel insurance seamlessly, you can visit GIBL.IN, the premier online insurance marketplace. You can search travel insurance plans in terms of your criteria and compare travel insurance online plans in terms of coverage, exclusions, limitations and premium as well as performance and reviews of travel insurance companies in India. GIBL.IN also facilitates quick online purchase and renewal of travel insurance online plans so you can buy and renew the best travel insurance policy online right from the portal of GIBL.IN within a few minutes.