The significance of having a health insurance in India cannot be stressed enough, especially in this age of absurd medical expenses which is increasing at an insanely alarming rate. Unless you are a rich and famous celebrity, a comprehensive health insurance policy is the only way to cope with rising health related costs. And, you know that too, it is just the task of making the right choice where you got stuck. So, here ten secrets to find the best health insurance policy are unveiled so that you can trace out the one that actually satisfies your needs without hurting your pocket. Pick the Right Provider Out of over 25 health insurance providers in India, finding the best one might seem like finding a needle in the haystack. You need to gain information on aspects like cashless hospital network and previous claim settlement record and experience and financial stability of the provider to make an informed choice. Your best bet are those providers that are solely into the niche of health insurance in India. At present, there are some standalone health insurance companies in India and you should pick one among them. Select the Right Coverage Once you decide on the type of health insurance provider you want to deal with, the next most important thing is to select the right coverage. The secret to complete protection through medical insurance plans is getting adequate coverage. Usually, if you opt for higher sum insured, payable premium will also rise accordingly. But, it is better to pay a bit higher health insurance premium than shelling out a fortune on hospital bills. If you are fit and young you can start with a moderate sum insured which will keep increasing with accumulated bonus every year for not making any claims. But if you are on the wrong side of 40 and have previous medical history it is safer to go for higher sum insured. Medical expenses are higher in metro cities so if you live in any of those cities you should select higher sum insured regardless of your age and health conditions.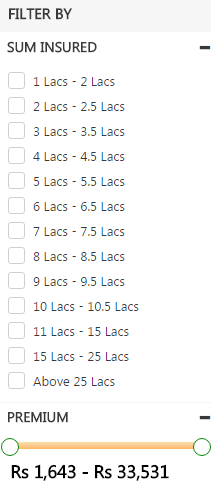 Source: GIBL.IN If you choose to buy health insurance online from GIBL.IN, you can select from a vast range of sum insured from a vast range. For a male individual in the age-group of 31 to 35 years living in a metro city, the health insurance premium will be in the range of Rs. 1643 to Rs. 33,531 for sum insured in the range of Rs. 1 Lakh to over Rs. 25 Lakh. Choose the Right Type of Health Insurance Policy Selection of the health insurance type depends mainly on your marital status. If you are an unmarried single your ideal choice is individual health insurance plans. But, if you are married with children you are better off opting for family floater plans. If you have senior citizen parents in your family you need to consider senior citizen health insurance policies separately for them. Apart from the regular plans, health insurance in India has recently experienced launch of some disease-specific health insurance covers such as Cardiac Care Covers that offer wider coverage for specific ailments. You might get tempted by the lower premium of these plans, but you have to keep in mind that you can only make use of these covers to good effect if you such a specific conditions springs up. So, it is best to consider these plans in addition to comprehensive health insurance plans. Check Out the Inclusions and Exclusions While you settle with the coverage after choosing an optimum sum insured amount you need to ascertain whether your chosen coverage cover all sorts of diseases and medical conditions. Most health insurance policies impose a strict waiting period that varies between 2 to 4 years for pre-existing conditions. Some specific ailments also fall in this category and you have to wait for certain years to get coverage. You can also choose the waiting period as per your convenience between 2 to 4 years.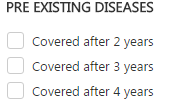 Source: GIBL.IN To avoid shock and disappointment later you should keep a close eye on the list of permanent and temporarily excluded diseases when you compare health insurance policies. Consider Riders for Wider Coverage Of late, many health insurance companies in India have come up with various riders and top-up covers that widen the basic coverage for a nominal price. Some of these covers in the likes of maternity cover riders, critical illness riders are well and truly useful. These riders costs less and improve the already existing protection. You should wait and see how your basic health insurance fares in terms of providing you with adequate coverage. In case you feel you need extra protection you can avail health insurance riders and top-ups as per your needs and budget. Look for Health Insurance Plans Without Sub-limit Nowadays, most medical insurance policies come with a sub-limit clause on various expenses such as rent of room, consultation fees and diagnostic charges. These sub-limits defeats the purpose of opting for high sum insured because your various expenses won't be entirely covered no matter how big is your chosen sum insured.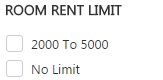 Source: GIBL.IN You should, therefore, look for medical insurance plans in India that don't come with sub-limits. These limits are applicable on various aspects of medical expenses including room rent. If you want to compare only those health plans that don't come with limit on room rent you can opt out this option. Compare Health Insurance with Lifetime Renewal Most regular medical insurance plans can be extended to a maximum age limit of 70 or 80 years. After that threshold, these health insurance policies cease to have effect. But, you are more likely to fall sick and require coverage at an advanced age. Therefore, you should trace out health insurance plans with lifetime renewal option so that you can rest assured of being protected throughout your life. Compare Health Insurance Without Co-Pay Like sub-limits, co-pay is another ploy by health insurance companies in India to reduce their burden in time of a claim. Many people opt for it to reduce their health insurance premium but it backfires when policyholders make claims as they have to pay the amount chosen upfront to make the insurer pay the rest. Depending on the provider, the co-pay varies between 10% to 40%.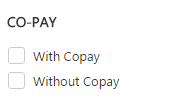 Source: GIBL.IN You should focus on those health covers that don't ask for co-pay. Once you check the without co-pay option you can compare health insurance that don't require co-pay. After cracking the secret codes, you are almost set to embark on your quest of finding the best health insurance plan in India. Here are some quick final tips for you before you buy health insurance in India.
You should buy health insurance plans as early as possible as therein lies your best chance of getting the lowest premiums
You might have to stretch the sum insured limit when you get older or when your family size increases
You should always look to avail a plan with portability feature so that when you want to switch the provider you don't have to miss out on your accumulated benefits.
You can start with a basic health insurance policy in India. You can consider riders,

disease-specific health plans

and coverage for undergoing treatments abroad at a later stage as secondary level of protection.
Conclusion Health insurance policies are umpteen in numbers in India. But, after considering these ten facets you can narrow the list down and handpick the best health insurance policy in India. Judging medical insurance covers in terms of these aspects is not easy. But, there are dedicated online insurance comparison portals like GIBL.IN where you can compare health insurance online in just a few minutes and make a purchase. At GIBL.IN, you are sure to get the best health insurance policy at the lowest premium. All you need to do is put in your requirements and compare available premium quotes.