Gone are the days when health insurance was perceived in India as a luxury. In this era of increasing medical inflation, healthcare expenses are going beyond our affordability. It is far from being prudent to depend on our own savings to pay out medical expenses. Even though, many of us possess group health covers that are either individual or family floater policies provided by their employers, these plans are not all-inclusive and the benefits often fall short of actual needs. This is why a standalone health plan is the need of the hour for us and our families. If you are unaware of the rise of healthcare cost over the past ten years, here are some stats for you.
Healthcare costs are rocketing in India
Medical treatment costs had risen at more than 10% rate over the last decade in both urban and rural areas in India. Recently, in the first half of 2014 National Sample Survey Office or NSSO carried out a survey across the country on the average cost of hospitalization. Here are the findings;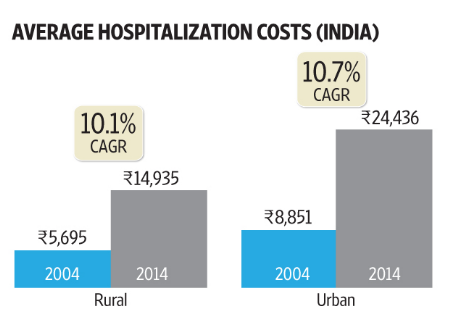 Source: livemint.com
5 best health Insurance companies in India
Now that you know how costly it is for an Indian to manage healthcare costs, you would surely be looking for a health cover to stay financially protected. But the trickiest part is locating the right medical insurance provider simply because there are over 25 insurers operating in India and all of them are far from being equal in terms of policy coverage, premium amount, claim incurred ratio and lot many other parameters. To make your lives easier, I made the effort to assess the quality of each medical insurance provider in India and have come up with a comprehensive list of 5 best medical insurance companies in India and their most sought-after insurance products; both individual and family floater plans.
However, my purpose of providing the list of best health insurance companies is to make you familiar with these insurers and their products. If you really want to avail a health plan, you need to go through many factors in the likes of waiting period, pre-existing illnesses, claim-loading, list of exclusions, renewal process and many more. Selecting the right medical insurance cover is not a piece of cake as it requires lot of discretion.
Max Bupa
Max Bupa Health Insurance Company Limited is the outcome of a joint venture that took place in 2010 between Max India Limited and Bupa which is a renowned UK based Healthcare Group. Based out of New Delhi, Max Bupa offers bespoke services and offers cashless treatment in more than 3500 hospitals India. Some of the standout features of a Max Bupa health insurance policy include cashless facility and medical costs for pre & post hospitalization. The company has already bagged the "IT Leadership Award". Max Bupa is widely regarded as one of the best health Insurance companies in India for its individual and family floater plans.

Source: maxbupa.com
What makes Max Bupa standout from the rest of insurers is they don't load their policyholders. Moreover, this leading health insurer in India determine premium for their insurance products as per the region. They don't impose any upper age limit to avail a health policy which facilitates people irrespective of their ages can buy their health covers. Furthermore, Max Bupa health insurance plans come with a lifetime renewal option which is well and truly bliss for elderly people. There are also benefits like maternity cover once the waiting period is over.
Cigna TTK
Cigna Corporation and TTK Group merged with a view to put together an insurance house solely focusing on offering good health insurance products. The Company was licensed by IRDA in 2013 and began to operate from the February of 2014. Cigna TTK is one of the few stand-alone medical insurance firms in India. Cigna TTK is highly acclaimed for its affordable insurance covers and robust customer service. The establishment even aims to boost personal health management to its policyholders through its health plans. Here is a list of health insurance plans available at Cigna TTK.
ProHealth Protect Plan

ProHealth Preferred Plan

ProHealth Plus Plan

ProHealth Premier Plan

Lifestyle Protection - Accident Care Plan

Lifestyle Protection - Critical Care Plan
Cigna TTK introduced Cigna Global Health Policy, an exclusive group health insurance product that covers Indian employees globally while travelling around the world. Cigna TTK is the partner of two prominent Marathons namely Standard Chartered Mumbai Marathon and Airtel Delhi Half Marathon.
Star Health
Star Health is a joint venture among some insurance veterans in India, ETA Ascon Group and Oman health Insurance Company. It is also the first ever standalone health insurance provider operating in India to provide consumers with individual and family floater health plans.

Source: starhealth.in
The company gained popularity for offering many an innovative policy like Diabetes Safe meant for diabetic patients and Star Netplus to cater to the needs of people suffering from HIV+. Unlike other health insurance establishments Star Health boasts an in-house TPA. Their customers are also provided with the unique facility to consult with general physician for free in some of their health insurance plans.
Apollo Munich
Apollo Munich came into existence back in 2007 after the collaboration between Munich Health and Apollo Hospitals Group. Apollo Munich bagged the prestigious award of "Health Insurance Company of the Year" in 2014 for its excellence in offering beneficial health policies to make medical expenses affordable.
Apollo Munich, under its "Optima Restore" policy offers cashless treatment option in over 4000 hospitals all over India. Aside from Optima Restore, other popular health covers on offer at Apollo Munich are Optima Cash, Optima Super and Energy and Easy Health.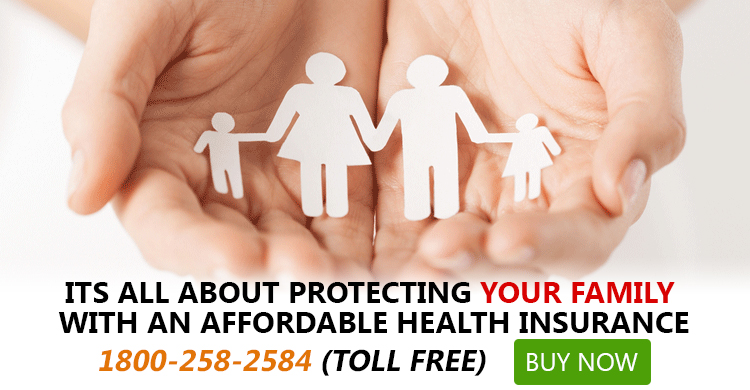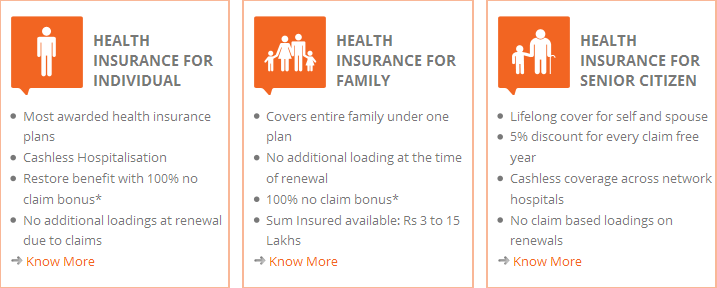 source: apollomunichinsurance.com
Most of the health plans on offer at Apollo Munich boast some unique traits in the likes of portability of existing policies along with all due benefits and lifetime renewal option. Its health plans also offer maternity cover, after a certain waiting period.
Religare
Religare Health Insurance Company came into appearance in 2012 when Religare Enterprises Limited, Union Bank of India and Corporation Bank tied up with one another. It is an Indian stand-alone health insurance company.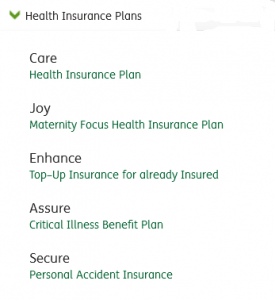 source: religarehealthinsurance.com
The network of Religare Health Insurance Company for cashless hospitalization is massive as it encompasses over 4000 hospitals across India.
How will you assess the credibility of a health insurance provider?
The above-mentioned list of 5 best health insurance companies in India will definitely give you an idea about their offerings. This is important because before finalizing any insurance policy you need to know about coverage, exclusions and other features. But, along with the features you should also gain information on the track record of these insurance firms in claim settlement. The chief reason why you will buy a good health insurance in India is to avail benefits like avoid paying on your own pocket when a medical urgency occurs. If your claim request doesn't get approved the whole purpose of purchasing a health policy would be defeated. This is where claim incurred ratio of a health insurer comes into play and needless to mention, you need to pick the insurer with unsurpassed claim incurred ratio.
An exclusive comparison of claim incurred ratio of 5 best health insurance companies in 2015
| | | | |
| --- | --- | --- | --- |
| Health Insurance Provider | Premium earned (Net) | Claims Incurred (Net) | Incurred Claim Ratio |
| Max Bupa | Rs. 891210(up to 30th June 2015) | Rs. 576410 (up to 30th June 2015) | 64.67% |
| Cigna TTK | Rs. 81494 (up to 30th June 2015) | Rs. 51,897 (up to 30th June 2015) | 63.68% |
| Star Health | Rs. 3808408 (up to 30th June 2015) | Rs. 2188415 (up to 30th June 2015) | 57.46% |
| Apollo Munich | Rs. 1791609 (up to 30th June 2015) | Rs. 1146297 (up to 30th June 2015) | 63.98% |
| Religare | Rs. 691502.6 (up to 30th September 2015) | Rs. 416061.0 | 60.17% |
In simple words, the claim incurred ratio is determined by the claim settled by a particular insurance company to the total premium that is collected by that specific insurance provider for a specified period. For an instance, if an insurer's incurred claim ratio is 80% it means, the insurer spends 80 Rs on claim settlement for every Rs 100 it earns from premium. This ratio indicates how efficient a general insurance company that sells health insurance or a standalone health insurance provider is when it comes to claim settlement. Obviously, your chosen health insurer must have high incurred claim ratio.
Conclusion
Ever since the private players have entered into Indian insurance sector, the industry went from strength to strength and policyholders gained a number of benefits. Most health insurance companies have resorted to TPAs to take care of cashless hospitalization of policyholders for quality medical treatment and also for providing assistance at the time of claim settlement. Very recently some sites have come up with long-term health insurance products as well.
So, here are the best medical insurance companies in India that performed brilliantly in 2015. You are now all set to select the best health cover for you and your entire family from either a general insurance company or stand-alone health insurance companies. However, if you still think finding the best health plan is difficult, here is an advice that you can pay heed to. Instead of visiting each of these 5 insurance companies' portals you can always resort to online insurance comparison portals. GIBL is one such portal that will take care of your comparison process efficiently and in a lot more speedier fashion. Upon submitting your personal details and the kind of policy you want to secure, GIBL will provide you with a list of health policies within a few minutes. All you need to do is pick the right health plan and grab it at the earliest because GIBL also allows you to buy the policy right from its portal.
Disclaimer: These health insurance plans are neither ranked in ascending nor in descending order. These heath insurers are picked by the author and reflect his personal choice. It is suggested that buyers use their discretion when choosing any specific insurance product.